Salvaging electronics components for QRP projects
by sv3ora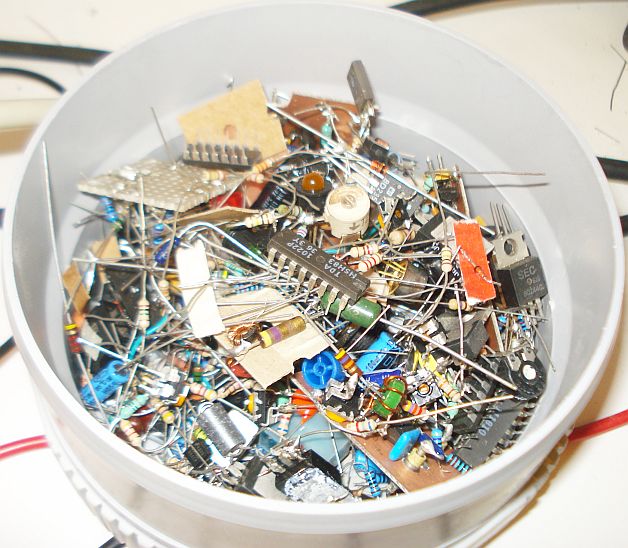 This page is intended to be an extensive guide for salvaging electronics components from old equipment, for using them, as a hobbyist, on your QRP projects. Things like, why salvaging specific parts, why do they worth it, where can they be used, will hopefully be answered here. This guide will probably never complete, as I will update it periodically, with new ideas.

At times where global financial (and ethical) crisis hits the world, the idea of reusing old electronics instead of throwing them away, seems more interesting than ever. It is ironic, that our modern civilization, is based on the idea that old electronics must be better thrown away for the shake of new ones, instead of repaired. In fact, in many cases, it has become cheaper to buy new electronics, instead of repairing the old ones. So why bothering in salvaging electronics then? Below I explain some reasons.

Why salvaging electronics components from old equipment?


Cost


Cost, is the first reason to come in mind, for salvaging electronics components from old equipment. Not all components are expensive, but there may be some special components that are quite expensive. If your budget is really low, or you do not want to spend extra for your hobby, the cost of even the cheapest components, might be prohibiting. In the cost for a component, you have to include the cost of getting to the electronics shop to buy this component, or the postage costs. Not only that, but by salvaging old electronics that would be otherwise unuseable, you get components really for free. Let's face it, free is even better than cheap!



Availability


When you are up on a project and you miss some components, it is very annoying having to wait for the bought components to arrive. Some times this waiting can be as much as a month or so, especially if buying components from Asian countries. This can delay your project completion a lot, or even worst, make you totally give up the project. Having a good stock of salvaged components ready to be used when you want them, is worth it more than anything.



Obsolence


There are many examples of excellent components that were made in the past, but now are no longer being manufactured. This relates to specific part numbers, but also to specific component types. Having such components in hand, may solve many of your QRP projects problems in a simple way, whereas you would need to make things more complex, if using modern components.



Quality


Nowadays, most of the electronics equipment comes from Asian countries. To keep the cost of such products down, usually low quality components are used in this equipment. At this era, it may worth it more than anything to salvage better quality components from equipment that has been manufactured in the past, prior to the Asian market domination.



Joy


The joy of filling up your lab stock with free components out of nowhere, is great. The joy of building QRP projects out of these components, is even greater. Moreover, the fun of the process itself of selecting and pulling components out of old equipment, cannot be compared to anything else.



Recycling


Reusing old components, is not only good for your projects, but for the environment as well (you are part of this environment anyway). These days, we take many things for granted and we seem to have forgotten that out natural resources are limited. Not only that, but if you think all the energy and the waste that has been produced, in the process of making these components, you will definitely appreciate the reuse of these in your projects.

It seems that salvaging electronics from old equipment is totally great and we do not need to buy anything. However, there might be some reasons why one won't bother to do this.



Why NOT salvaging electronics components from old equipment?




Time
It takes quite a lot of time for pulling out components from old equipment, which is not always available. It usually involves disassembling the equipment and manually cut or desolder the individual components. The way I usually handle this, is to desolder only the components I like at first, then store the rest of the equipment somewhere, for future desoldering. When I have time or get bored, I dig out this stored equipment and desolder more components out of it. It helps a lot in this as well, to cut the components off the PCB instead of desoldering them. With some components (transistors, ceramic capacitors etc.) this can be done, whereas others (like ICs) need desoldering.


Safety
Safety, is a major issue when pulling out electronics components from old equipment. It relates to the general safety guide, I have written, so make sure you read this guide first! Remember, we are hobbyists, doing this hobby for fun. So, to be safe in whatever we do, is a must. To enjoy what you do, do not get too extreme about safety, but you should follow at least some basic guidelines. For an average QRPer, the issues of safety, relate mainly to the lead-based solder contained in old PCBs and the fumes that are released when desoldering the components. Another issue, is the eyes and hands safety. This is not only related to the lead contamination, but also to the body protection. Sharp PCB corners or the through-hole components pins that extend from the bottom of PCBs, can give you a really nice wound. Also, bits and parts that are accidentally broken, can easily end up into your eyes. Hopefully, all of these dangers can be prevented, by desoldering the components outside or in very well ventilated areas (these PCB chemicals just stink) and wearing protective glasses and gloves during handling the equipment and desoldering the components. Even if you follow these simple rules (you must do so), the components that you desolder, especially the ones from old or cheap PCBs might contain lead in their pins. If you already use lead-based solder, this will be of no concern to you. But if you use lead-free solder, unfortunatelly there are not many things you can do for removing the lead from these components. It is exactly the same, as buying cheap lead-tinned components from Asian manufacturers. This is the risk you take from salvaging these components. However, there are some simple things you can do, to minimize the amount of lead in such components. Where you can, cut the components from the PCB, instead of desoldering them. Make sure you cut them at the point where you notice no lead solder onto their pins, but ensure that there is enough pin length left for the components to be usable again. Note, that even if you cut the pins, lead may be still contained onto them, if they are not lead-free tinned. For components that don't allow you to cut them, desolder them and then re-tin their pins, using lots of lead-free solder. Each time you finish applying lead-free solder onto a pin, clean the iron tip, so that the lead-based solder contained into it, is minimized. The idea is to dilute the lead-based solder and replace it as much as you can with lead-free solder, so that you minimize the amount of lead contained on the components pins. Note that this is an expensive way to go, as lead-free solder is expensive. You may even decide to have a second soldering iron, to use it with lead-based desoldering and retinning. I usually do this, only for some special components that cannot be cut off and I really like to pull them out.


Faulty-aged
When pulling out components from very old PCBs, one thing to consider, is if these components have been aged, to the point that they are unusable. Very old electrolytic or film capacitors, are known to age and sometimes fail. Quartz crystals, age and this has impact in their characteristics, although not a big problem usually. Such things, can have a great impact to your QRP project, as you might think that it does not work because the circuit is not well designed, but you have actually a faulty component placed in it. Faulty components can not always be identified, unless you build a components tester for these components.


Which components worth it to salvage for your QRP projects?

This is a difficult question to answer and it relates to your available time, the type of QRP projects you build, your experience level in electronics and your stock of components. Based on your available time, you may decide you want to salvage every component, or just the components wou think you would need. It is really your own decision. However, in this guide, I will try to give you some hints and tips of some components that may really worth it to salvage (not that the rest don't), along with some examples of where you can use them, always having in mind that we are talking about QRP related circuits. So let's begin with the list.

Multi-turn potentiometers

Many old TV sets, had the ability to store channel presets into their "memory", so the user could easily switch between channels with the click of a button. These memories, were nothing more than boards of many stacked potentiometer presets, which set voltage levels to a varactor, to tune to a predefined frequency (see images below). These potentiometers, are all multi-turn, because fine tining was required. Of course, you can find multi-turn potentiometers on the market today. However, these vintage potentiometers have more features onto them, usable in our QRP projects.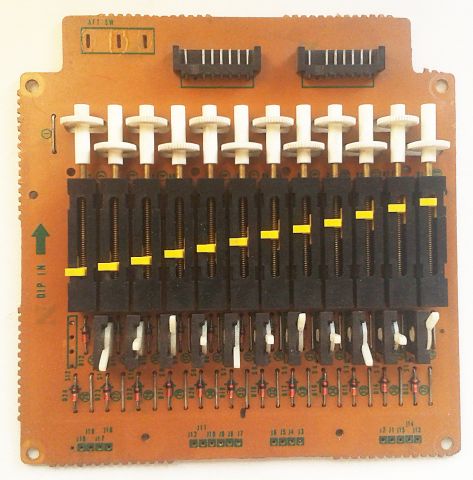 They combine four things into a single device. A low inductance linear carbon resistive element, a fine tune reduction gear mechanism, a needle that shows the position of the taper and a knob attached onto them. These are excellent devices that do more for less for sure. You can use them as your main tuning elements for your varactors, as they are fine tuned easily from their knobs, without the need for separate fine-tune potentiometers, but at the same time, as analogue displays of the frequency setting. They are very suited to portable equipment as well, because they combine all these features into a small package. I really can't think of a better and simpler mechanism for tuning and frequency displaying for the QRP projects, other than this.

The pitch of the screw into them, defines the fine tuning resolution. For two different type, but equal physical-sized potentiometers, the more turns of the knob, until the taper reaches from one end of the resistive element to the other, the finest the tuning resolution. However, if the potentiometers are not equal-sized, the resolution might be the same, even with different pitch screws. If I had two different size potentiometers, that had the same total number of turns, I would choose the larger one, since it would give a bit of a better display precision. If you can't find the right value potentiometer for your project, use a higher value one and place a parallel resistor to it, to create a lower value potentiometer (two resistors in parallel, yield in a lower value one).

A note of warning here. Since these potentiometers are vintage, you have to examine their condition before you use them. Examine first, if they move correctly and smoothly and also their overal physical condition. Then you have to examine if they have been affected by moisture. A simple test, is to use them as voltage dividers in a low level audio signal (volume control) and listen to the signal out of the taper. If you hear weird noises as you tune the potentiometer, they have been probably affected by moisture. One way to correct this, is to spray their internal parts, with a moisture removal spray. Sometimes it works, some others, not.
Variable air-spaced trimmers

Variable capacitors are components that definitely worth the effort of "hunting" them. There are all shorts of variable capacitors one can find in old equipment or flea markets and lots of choices. Air-spaced types are the most valuable, since they are not manufactured any more, they have high-Q, big minimum to maximum capacitance ratios and they can handle lots of power without get damaged. Most of them are quite expensive and very big compared to the rest of the electronics components nowadays. Also, modern electronics producers do not use them in low power applications due to their cost, their hand effects and their lack of electronic tuning without having to use motors. However, air-spaced variable capacitors are excellent components, that solve problems for the amateur radio experimenter, the eaiest way, requiring the less amount of components (although not the cheapest). A downside is that fine-tuning can only be done using external (or embedded to the capacitor) mechanical reduction drives, which are rare and make the capacitor approach even more expensive. Also, the use of variable capacitors in devices with limited space, is out of question. It seems that the more compact your equipment needs to be, the "worst" variable capacitance components in terms of Q and power handling (like varactors) you are forced to use. However in some applications, varactors cannot be used at all in place of variable capacitors.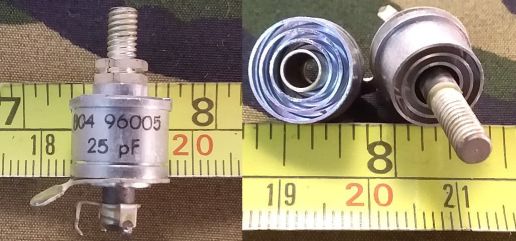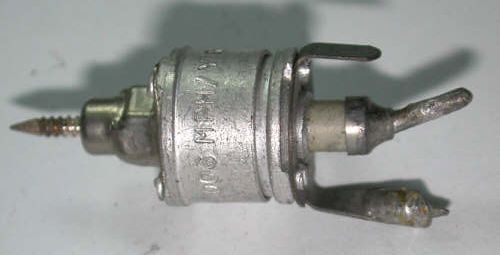 Another alternative to a big air-spaced variable capacitor, is to use small air-spaced trimmers in conjunction with external switched fixed capacitors or even external decade capacitors, to compose a larger capacitance. There are both benefits and drawbacks when doing so, but I won't refer to them here. These are very small, but the most impractical thing when using these trimmers, is the lack of a shaft to tune them with front panel knobs. Fine tuning is better when using the external switched fixed capacitor approach, but only because of the approach, not because of the variable trimmer.
However, there is a particular type of air-spaced variable trimmer which provides great advantages. This type, shown in the photo above, is called "beehive" variable capacitor and you can find them also as "tubular" or "piston" variable capacitors. Despite they are of low total capacitance (like all trimmers), they are small in size compared to their big brothers, they have high-Q, they can handle quite a lot of power and voltage (500V), they are relatively cheap, and due to their construction, they are finely-tuned, since they all have an embedded mechanical reduction drive (their screw)! I have found these trimmers to be backlash-free as well, which means that as you tune back and forth you do not skip frequencies due to backlash. Whereas in a standard trimmer the usable rotation is half turn at maximum, these trimmers have several turns to achieve the same capacitance variation.
Moreover, these particular types of trimmers, allow a knob to be easily soldered onto them, because there is a big surface for the knob to be soldered in contrast to the little delicate screws other types of trimmers have. Just make sure the inner hole of the knob is wide enough to fit into the top plate of the trimmer and long enough so that it does not prevent the plates from being fully pushed inwards to achieve maximum capacitance. A possible drawback is that your front panel knob is pushed in and pulled out when tuning the trimmer. Also there is no screw to attach these trimmers to the front panel.
Both of these disadvantages can be eliminated is wished. Instead of screwing the trimmer on the front panel, I use a small piece of PCB and solder the trimmer on it. The PCB is put at a distance at the back of the panel and so, the soldered trimmer stands at the back of the panel and perpendicular to it. Then I do a hole in the panel from which the knob (soldered onto the trimmer) extends. The knob is not attached or touch the front panel, it just passes through the hole and extends from it.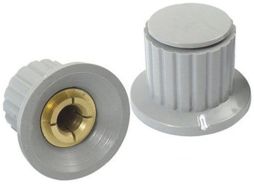 This approach works fine, but there is a drawback. You do not know when to stop unscrewing the trimmer, so you may accidentally remove the top cap from the rest of the trimmer body. The solution I found, is to use a knob with a ring-shaped body near the panel side, like the one shown in the picture above. The hole on the panel is made as large as the knob handle, but smaller than the diameter of the ring. When the trimmer is fully unscrewed, the knob ring will reach the panel surface and it will stop there, won't allowing for further unscrewing. Before fitting the back side PCB (that holds the trimmer body) in place, unscrew the trimmer fully so that you set the desired stop point. Then solder the PCB in place. That way, you can also define a different predetermined minimum capacitance for your trimmer if you like.

Changeover switches

These multi-pole multi-throw switches can be normally found inside cheap shortwave radios. They are used to select the different shortwave bands by changing over some components in the circuit. The particular switch shown below, is a 4P8T (4 pole, 8 throw). It is used to select between 6 shortwave bands, the MW and the FM.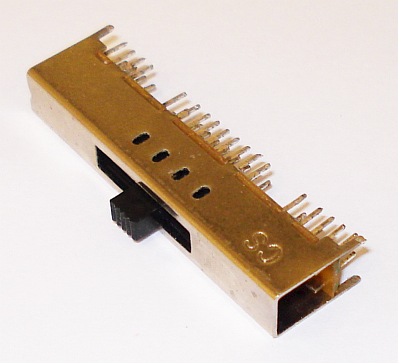 Such switches can be used in multi-band QRP radios. For example, for the particular switch shown above, one of the four sections could be used in a QRP transceiver, to switch the XO or the VFO between bands, the other one or two sections to select the appropriate LPF for that band and a spare section for whatever else you need for that particular band. At the flip of a single switch, you can jump to another band that way. Not only that, but these switches have a small size, compared to their equivalent rotary switches, so they are particularly suitable for portable operation.

In some cases, if you don't have the right switch, you can use external helper switches, to create different switch configurations. For example, in the particular 4P8T switch shown above, with the help of an external DPDT (double pole, double throw) switch, you can make it a 2P16T switch, with the DPDT switch to be used to select between the lower eight and the higher eight positions.

Note, it can be tricky to desolder so many pins from the PCB were these switches are fit in. If you have a solder pump you may decide to do it pin by pin. The way I usually do it, is more destructive. I cut the pcb around the switch using a cutter, to remofe the switch from the main PCB. Then, to remove the remaining PCB parts from the switch, I use a good amount of solder and I increase the iron temperature, to melt the solder so that it touches all pins of the switch at once. At the same time I move the iron from one side of the pinrow of the switch to the other and using pliers or a small screwdriver, I try to gradually lift the PCB fom the pinrow taking care not to overheat or mechanically damage the switch. It takes a little bit of effort and patience, but it is not particularly difficult.
Power and volume switches

In portable or small size QRP transceivers, you would usually want to minimize the number of switches, so that to minimize the size of the equipment. In such transceivers, you always need at least an ON/OFF switch and an audio volume control. Switches like the green one, shown in the picture below with it's knob fitted, combine both of these functions in one small package.
These parts, can be found in the market, or can be salvaged from old car radios. You may be able to find stereo versions of these as well, or versions with different switch types, like push-button. Many of these can be PCB-mounted as well as chassis mounted, and they include a nut for the purpose. Apart from their small size and combined switch and volume control, the types that do not have a push button switch, have another advantage. When you switch on the equipment, you always ensure that the audio volume control will be minimum and this can save your ears while wearning headphones and switching on the transceiver.

Analogue Power/S-meters

The picture above, shows a tiny analogue milliamp meter in comparison to the volume and switch part described above, for size comparison. Many old CB transceivers contained such a meter, and used them as transmitter power meters and as receiver S-meters. They all have a scale on them for the power and the S-meter reading. Despite being more fradgile, their great advantage over LED meters combined with driver ICs or transistors, is that they consume no power at all and sometimes they can be quite smaller. Another advantage, is that they already have the scales on them, so there is no need for external markings.
Crystals/ceramic resonators

You can never have enough of them! No matter that they are no, or very little tunable, they are extremely stable signal sources for their simplicity, far beyond any LC circuit. They can be used in simple and synthesized oscillators as well as in filters.

Old computer hardware (mother boards, graphics cards, modems, CD-ROMs etc.) is an excellent source of crystals. Most old graphics cards contain 14.318MHz crystals. Old analogue TV cards contain 28.630MHz crystals. Some modems, motherboards and graphics cards contain 28.224MHz and 28.920MHz crystals. All the above frequencies are directly within the HAM bands.
However don't look for such crystal frequencies only, but also for out-of-band ones. Some times for example you may need to build synthesized signal sources (a VXO mixed with an XO to produce a tunable signal source on a band) and out-of-band crystals may be used too. Many CD-ROMs have 33.8MHz or 33.86MHz ceramic resonators in them and floppy drives have 4MHz ceramic resonators in them, which you can use to build VXOs operating at the HAM bands.
Cables

A good source of cables is the old desktop computers. Their power supplies have thick cables capable of carrying many amperes of power. For low currents an excellent cable source is the ribbon cabling used for connecting the IDE hard disks and CD-ROMs to the motherboards.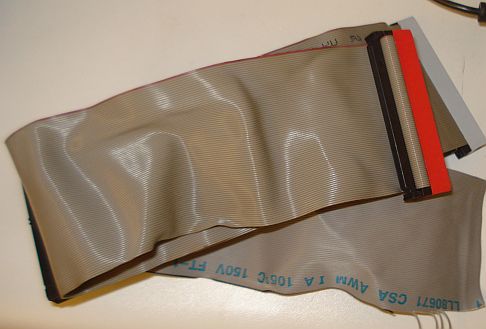 These cables are composed of a huge quantity of smaller conductors. Cut the connectors with a pair of scissors and use your nails to separate each conductor from the next one, like shown in the bottom right side of the picture above. The separate conductors diameter is small and this comes into benefit when space is limited and when lots of cables exist in your circuit.

How to organize the salvaged components?
This section is to be written.


To be continued...